The 2022 National Film and Television School (NFTS) Graduation ceremony
The 2022 National Film and Television School (NFTS) Graduation ceremony took place on 4th March at the Odeon Luxe in Leicester Square, after four days of screenings at the BFI Southbank. The annual celebration offers an opportunity to not only recognise the students' achievements over the past year, but also for members of the screen industry to meet the upcoming talent leaving the NFTS.
Sargent-Disc attended the ceremony as a proud sponsor of two Production Management Diploma students and one Production Accounting student (John Sargent Scholarship). Scholarships are a key part of Sargent-Disc's work to recognise the efforts of the NFTS and its students in achieving excellence.
Sargent-Disc Award winners
Alongside the diploma presentation, key NFTS industry partners Sargent-Disc, Avid, Christie, IOSH and Panalux presented awards to chosen students for high levels of achievement in their projects.
The 2022 Sargent-Disc Awards went to Claudia Carbajo and Laura Hartwell for their effective reporting skills and excellent budgeting and cost control management. The students took home a Final Draft software licence each as well as £500.
"Sargent-Disc is proud to support the NFTS with a scholarship for two Production Management students each year and delighted to be able to recognise the fantastic efforts of all of this year's NFTS Production Managers. Congratulations to all of the students for successfully completing their studies. It is an exceptional period of growth for our industry and the skills that the students have learned at the NFTS are in high demand." Dr Laurence Sargent, Director, Sargent-Disc commented.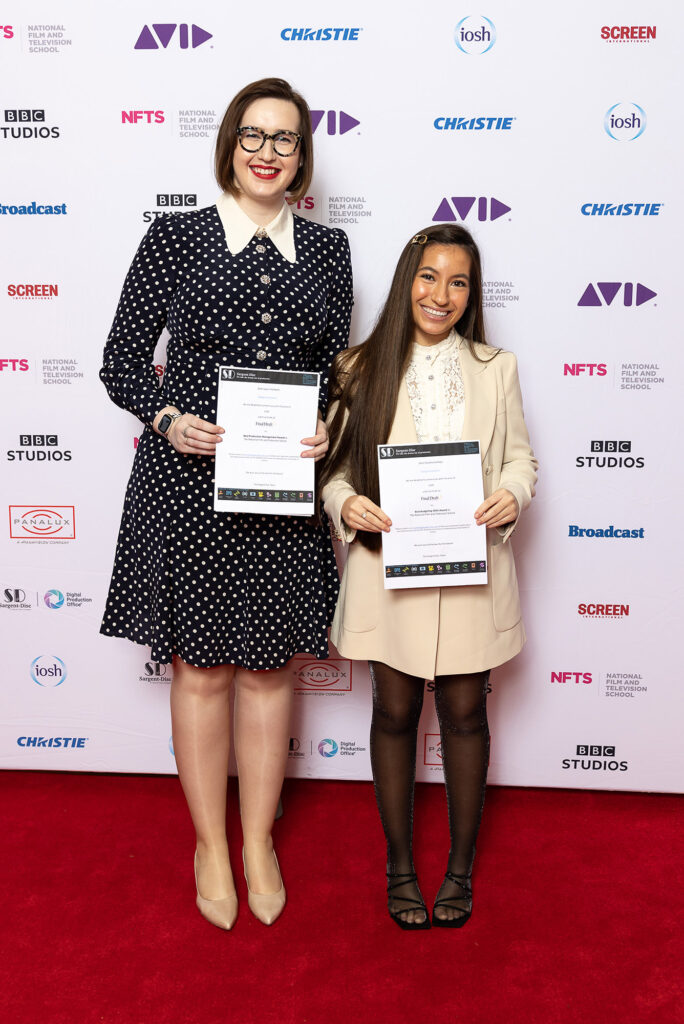 An Honorary Fellowship was awarded to BBC Chief Content Officer Charlotte Moore for her outstanding contribution to the screen industry.

For more information about the NFTS, click here.