We were delighted to sponsor this years' Reception at the 2022 Production Guild of Great Britain Awards in association with Warner Bros. Studios Leavesden, which took place at The Grove in Hertfordshire on Saturday 26 March.
The awards recognise remarkable achievements made by Guild members working in film or television drama within the production office, accounting, locations, assistant directing, post-production and VFX.
Whilst the pandemic forced the biannual event online in 2020, this year saw the welcome return to a glittering in-person ceremony, hosted by comedian and TV presenter Patrick Kielty. Six awards were handed to film and High End TV-industry figures, productions and initiatives that have achieved remarkable success in the past year.
Dr Laurence Sargent, Director of Sargent-Disc and Co-Head of Cast & Crew International, said: "After so long working remotely, it was a real milestone to be able to gather together with industry colleagues in person at The Production Guild of Great Britain Awards 2022, to applaud the successes of those working in UK production. It was our pleasure to sponsor this year's Reception."
"We were particularly proud to see the recognition for The North Water and The Northman, two titles that Sargent Disc provided payroll services for. And of course, we join many others in congratulating Barbara Broccoli and Michael G Wilson on their Contribution to the Industry award. Sargent Disc has a long-standing relationship with EON that we were recently delighted to continue by supplied payroll services for No Time To Die. Congratulations to all the winners!"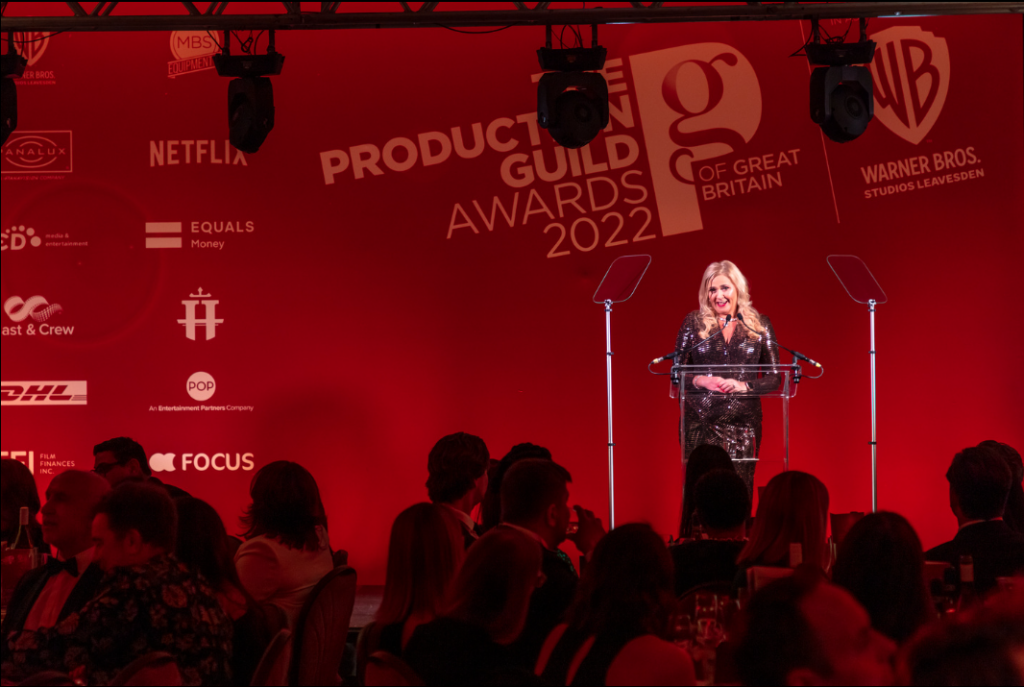 Film Production Team of the Year Award
This year saw the PGGB Production Team of the Year Award separated into Film and HETV production categories for the first time. The PGGB Film Production Team of the Year Award was presented to the team behind the action-filled Viking epic The Northman (New Regency/Focus Features). Mark Huffam (Producer), Peter Eardley (Financial Controller), Naomi Liston (Supervising Location Manager), Darren Chesney (Production Manager), Nikki Chamberlain (UK Production Accountant), Tom Boardman (Payroll Accountant), Barry McGoniglet (Assistant Accountant) and Jakub Malar (Assistant Accountant) collected the award for their exceptional work on the action movie set in 10th Century Iceland.
When the UK entered lockdown just days before The Northman's principal photography was due to start in March 2020, director Robert Eggers and crew quarantined in Belfast rethinking production practises and schedules, devising innovative solutions to Covid-safety challenges, and navigating arrangements with a multi-national cast that included Alexander Skarsgård, Nicole Kidman, Claes Bang, Anya Taylor-Joy, Ethan Hawke, Björk and Willem Dafoe. With overseas locations off the table due to travel restrictions, the team set out to recreate the Scandinavian look and feel of the film in Northern Ireland, rethinking locations and set building and prepping everything from costumes and props to horse-training and armory-safety during shutdown. The three month shoot finally began in August 2020 at Belfast Harbour Studios and on location at Torr Head (County Antrim) where a full Viking village was built. Other locations included Five Finger Strand (County Donegal) and The Gleniff Horseshoe (County Sligo).
"The Northman was the first major feature to shoot in Northern Ireland during COVID-19," said Jury Chair, Producer / Exec Producer Callum McDougal. "It was an absolute trailblazer, sending a sign across the world that we could continue to work safely in this country and deliver film successfully. The team really went above and beyond, showing an exceptional degree of resilience and ingenuity whilst remaining true to the original concept of the movie."
A Special Mention went to the team behind award-winning indie feature Rocks (Fable Pictures/BFI/Film4) for championing emerging talent in front of and behind the camera and building a predominantly female team.
High-End TV Production Team of the Year Award
The new PGGB High-End TV Production Team of the Year Award went to five-part BBC Two miniseries The North Water made by See-Saw Films. Nicky Earnshaw (Head of Production), Alice Dawson (Co-Producer), Paul Murphy (Financial Controller), Edward Rastelli-Lewis (Production Manager), Adam Hutchings (Production Accountant), Owen Keys (1st Assistant Accountant) collected the award for their outstanding work on the survival thriller set in the UK and the ice floes of the Arctic in the late 1850s.
Driven by director Andrew Haigh's vision for maximum authenticity, shooting took place in the Arctic in Svalbard, up to 81 degrees north, earning The North Water the reputation of being the most northerly drama shot to date. At times locked in sea ice and up to 24 hours away from land, filming took place on a period whaling vessel with just two small support vessels and on floating ice sheets.
Cast and crew lived in close quarters for a month, enduring hostile conditions and freezing temperatures, encountering polar bears and walruses. Production continued in Budapest at the end of 2019, and when the pandemic brought about lockdown in March 2020, the team were forced to pull the Canadian leg of their shoot, moving filming for remaining sequences to the UK. The shooting crew were a mix of British, Hungarian, Norwegian and Canadian.
"The North Water team demonstrated how to survive the perfect production storm: you take all the elements that make production tricky, throw in Covid and then sail north!" said Jury Chair PGGB Chair, Producer Alex Boden. "The fact that they not only survived it, but they'd do it again, is testament to this team's achievement. This is what UK High-end television looks like today."
A Special Mention went to the team behind Channel 4 crime drama Suspect (w/t) produced by Eagle Eye Drama, for their progressive approach to scheduling the shoot in a way that reimagined the 'work-life balance' of the film set, placing well-being of crew at the heart of the show.
This year's PGGB Inspiration Award went to Samantha Perahia MBE, British Film Commission Head of Production UK, for the continuous guidance, advice and support she provided to the UK film and High-end TV production sector throughout the COVID-19 pandemic.
An integral member of the BFI Covid Safety Taskforce and the BFC Covid-19 Inward Investment Recovery Group, Samantha led on the drafting of BFC's 'Working Safely During COVID-19 in Film and High-end TV Drama Production' guidance. Working remotely, her team led one of the biggest cross-industry consultations ever undertaken, considering hundreds of submissions to develop the guidance.
Working with DCMS, Samantha led the guidance through government scrutiny to the highest level including Public Health England and, finally, No.10. On 1st June 2020 the UK film and High-end TV sector became the first industry to publish Government-endorsed safety guidance, enabling production to start moving again. Samantha's team has regularly updated the guidance amidst changing restrictions, providing up-to-date guidance to production professionals in the UK and overseas. She was awarded an MBE for services to the industry in the New Year Honours List 2019.
"Samantha is the best asset the British Film Commission has," said Iain Smith OBE. "Through her passion, her can-do approach and her hard work, she has become the trusted voice of our industry around the world and particularly in North America. As Chair of the BFC I thank her for her hard work and her dedication to that work and I salute her for everything she has done for our industry in this country."
A Special Mention went to Lynn Saunders, Head of Liverpool Film Office, for her work developing the screen sector in Liverpool and the North-West region.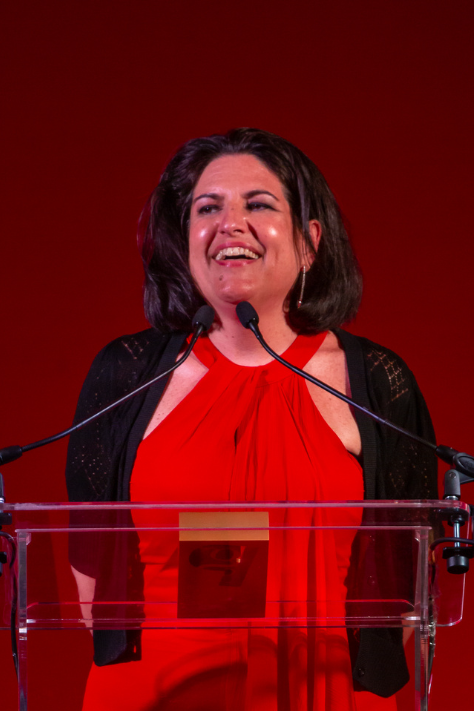 PGGB Diversity and Inclusion Champion Award
The newly introduced PGGB Diversity and Inclusion Champion Award went to Emily Stillman (Senior Vice President, Studio Operations WBSL) and actor Charlotte Riley for their work in bringing The WonderWorks, the first dedicated childcare facility at a UK film or TV studio, to Warner Bros. Studios, Leavesden.
The WonderWorks provides accessible, affordable and flexible support for families, with 45 places available to productions and Warner Bros. staff based at the site. Founded in 2019, the Ofsted registered nursery has set a precedent for the industry to provide support for parents working in film and TV production and has since launched the 'Keeping Families in Film' campaign urging industry leaders to make on-set childcare solutions a priority, with a line in every budget for childcare. The campaign has garnered widespread support in the form of an open letter signed by major figures such as Keira Knightley, Cillian Murphy, Hayley Atwell, Lizzy Caplan, Alfred Molina and Jodie Whittaker, along with organisations including Time's Up.
"To see the journey The WonderWorks has gone on in such a short space of time and what Emily and Charlotte have achieved, is incredibly inspiring", said actress Jodie Whittaker (Doctor Who) via a video message on the night. "It is so vital and it's so necessary for our industry."
Special Mentions went to: Channel 4's 'Black to Front' campaign; The Film & TV Charity's Mental Health campaigns; Jules Hussey (Brazen Productions); Nahrein Kemp (ITV Creative Diversity Partner), Digital Orchard Foundation and Sky Productions for The Rising.
Spotlight on New Talent Award
The PGGB Spotlight on New Talent Award was presented to Fay Mohamed for the tenacity and ability she has shown whilst stepping up from Production Coordinator to Production Manager.
After gaining Production Coordinator credits on Top Boy (Netflix), The Accident (Channel 4) and Ted Lasso (Apple TV+), Fay made the move to Junior Production Manager for one block of Britannia (Sky Atlantic/Amazon Studios), before stepping into a full Production Manager role in 2021 for Gangs of London, produced by Pulse Films for Sky Atlantic. Remaining poised in the face of huge challenges caused by filming during COVID-19, Fay built trust across all departments and remained enthusiastic for continued responsibility. Throughout her steady career trajectory, her natural and burgeoning talent for production has been recognised by those she has worked with, marking her out as 'one to watch'.
"We commend Fay for making that big step from the confines of the production office to a more frontline role," said Pulse Films' Head of Production Bianca Gavin. "Gangs of London is an ambitious series, yet Fay never once faltered. She put herself front and centre, managing crew and equipment shortages, on top of all the other anxieties that working through a pandemic brings. Stepping up to become a solution focused, friendly ear to cast and crew alike is highly commendable. Fay remained committed and reliable throughout the entire series. We applaud her courage in putting herself forward for that role."
A Special Mention went to Elizabeth Perkins, Covid Co-ordinator – Additional Photography Unit on Venom: Let There Be Carnage (Marvel Entertainment) and Travel & Accommodation Co-ordinator on Ant-Man and the Wasp: Quantumania (Marvel Studios/Walt Disney Pictures).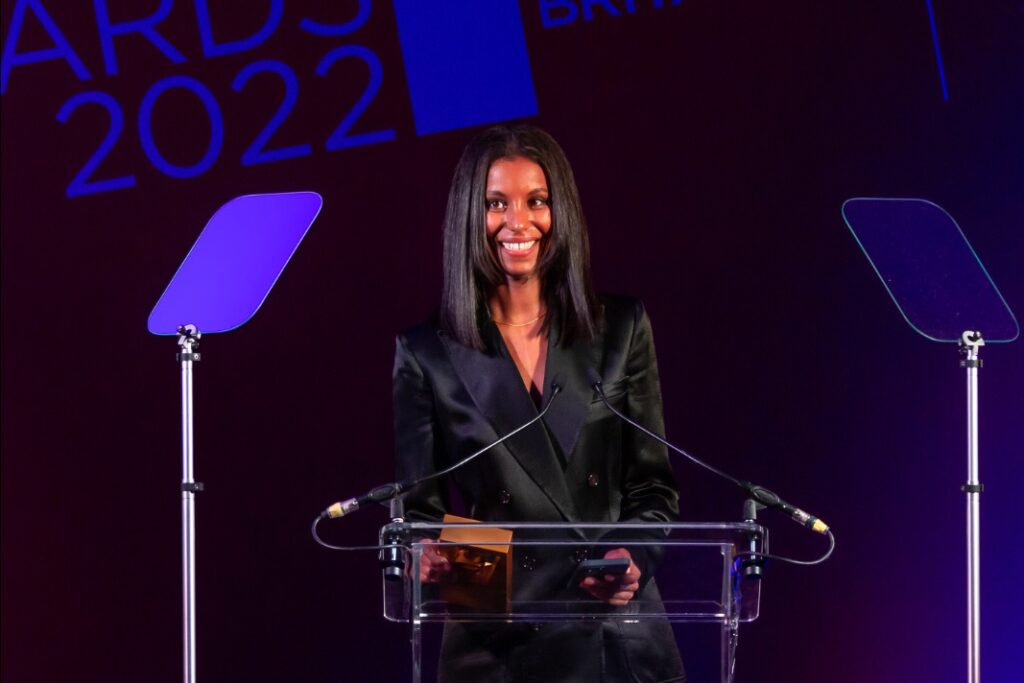 Contribution to the Industry Award
Finally, this years' PGGB Contribution to the Industry Award went to Michael G. Wilson and Barbara Broccoli, producers of the James Bond franchise and owners of London-based company, EON Productions.
Co-producers of the last nine films in the series, Wilson and Broccoli's credits include some of the most successful Bond films ever made including Casino Royale, Quantum of Solace, Skyfall (for which they received the BAFTA for Outstanding British Film), Spectre and the most recent, No Time To Die, the top-grossing Hollywood film of the pandemic era at the international box office. The 25th film, which marked Daniel Craig's fifth and final portrayal as 007, was five-times nominated at the 75th British Academy Film Awards where it won the BAFTA for Best Editing; and three-times nominated at the 94th Academy Awards ,where it won the Oscar for Best Original Song (Billie Eilish, Finneas O'Connell).
Wilson, Broccoli and EON have also produced a number of independent features, often female-directed with strong female storylines, including The Silent Storm (2014), Radiator (2014), Film Stars Don't Die in Liverpool (2017), Nancy (2018), The Rhythm Section (2020) and Ear for Eye (2021). Working hard behind the scenes to ensure a pipeline of talent for the future, Wilson and Broccoli are founders of the London Screen Academy and Broccoli is BAFTA's Vice President for Film and a Trustee of Into Film. The pair were awarded OBEs in 2008 and CBEs in the 2022 New Years' Honours List.
"There are almost too many reasons why Barbara Broccoli and Michael G Wilson deserve this very special award this year, perhaps more than any other year in the long history of their tenure of the Bond franchise," said Film Critic and award presenter Jason Solomons. "What they did with Bond 25, No Time To Die, is nothing short of phenomenal – showing bravery, commitment, utter faith in their movie, knowledge of their audience and making hard commercial decisions before delivering with the most artistic of flourishes."
Finally, the Awards also paid tribute to the life of veteran British television producer and Hartswood Films' founder, Beryl Vertue (1931-2022).
Speaking on the night, PGGB CEO Lyndsay Duthie said: "As British content continues to be in demand, we are delighted to be able to celebrate the achievements of our world class production talent at our prestigious awards ceremony. The winners are all trailblazers and we are so proud of each and every one of them."
For more information, click here.