Dr. Laurence Sargent went to the COP26 climate conference in Glasgow last week to attend the industry events held by BAFTA albert in an effort to promote the sustainable production of film and television content.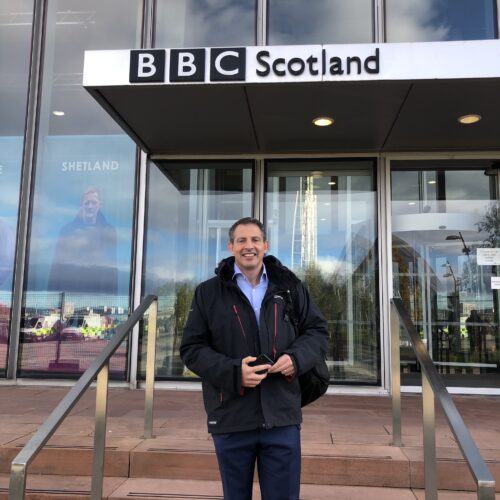 Over the past 10 years, albert has strived to get productions to measure and reduce carbon emissions during the production process. Sargent-Disc is proud to be an albert event partner. As well as supporting their events to raise awareness of climate change, Sargent-Disc's Digital Production Office® suite of applications are low carbon services that help productions improve their albert rating. For example, using Digital Purchase Order saves almost a tonne of carbon on an average large budget production, and the Travel Authorisation function for cast and crew helps productions ensure they are using low carbon modes of transport.
Alongside the panel discussions held with the BBC, ITV, Channel 4 and Sky in Glasgow 'The Power of Brands in the Climate Fight' and 'Reporting from the Front Line' albert organised 'Telling the stories of climate change – In conversation with the Broadcaster CEOs'. This seminar focussed on The Climate Content Pledge; a commitment to using content to inspire sustainable choices and show audiences what fighting climate change may mean for them.
12 broadcasters and streamers have signed up to the Pledge including BBC, BBC Studios, Britbox International, Channel 4, Channel 5 / ViacomCBS, Discovery UK and Eire, ITV, RTE, S4C, Sky, STV, UKTV. Find out more details about the pledge here.


The broadcasters emphasised the Pledge would help audiences learn what they can do to create change as well as raise awareness of the power of their spending choices to influence those they buy from. The fact that all broadcasters are committing to the Pledge should have a huge impact, with very different programming being produced across all genres.
The panel summed up that the success of the Pledge would mean they would not be back in five years time to tweak and reword it.