Over the past decade Sargent-Discs annual scholarship support for 3 students attending the National Film and Television School (NFTS) has aided 20 graduates, enabling them to access the education and opportunities offered by the NFTS. As this milestone year unfolds, a special spotlight is cast on the alumni of the Production Management Diploma programme as they reflect on their journeys so far and the impact the scholarship has had on them. We previously highlighted David Freedman, this spotlight covers Emily Morgan and her experience.
Embarking on a career change can be daunting, especially when it involves entering a highly competitive industry like film and television. Despite this, for Emily Morgan, her dream of working in the industry was strong enough to push her out of her comfort zone and pursue her passion. With the support of the National Film and Television School and the Sargent-Disc scholarship, Emily found herself on a journey that led her to the world of production management.
Through researching courses online Emily discovered the NFTS Production Management Diploma course. Its close proximity to her home and the opportunity to explore various genres and aspects of the industry made it a perfect fit for her aspirations. Despite initial uncertainty about her suitability for the program, Emily applied, with her mentality being you'll never know if you don't try.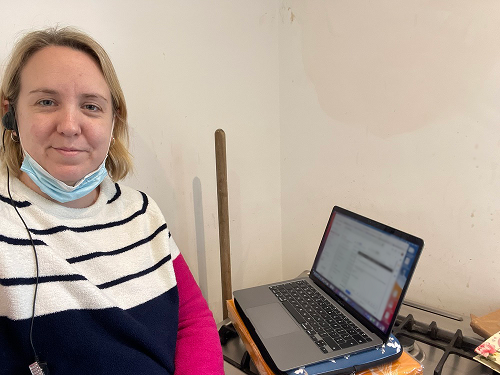 As a mother of two young boys, Emily's decision to pursue her studies at the NFTS required additional childcare support. Additionally, the financial commitment associated with the course was a significant hurdle. However, the Sargent-Disc scholarship provided crucial financial support; allowing Emily to focus on her studies without compromising her family life.
Emily's dedication, combined with her existing team skills and leadership qualities, allowed her to thrive in this transformative environment. She had the opportunity to work on various projects, including graduate documentaries, fiction films, and television programs, which provided valuable insights and bolstered her confidence.
The NFTS course gave Emily exposure to different genres and areas of the industry, helping her discover her passion for making documentary and factual television. This passion allowed her to plan her future career path accordingly; having initially considered high-end TV, Emily realized the appeal of the variety and challenges offered by documentaries and factual programming, which also harmonized well with her family life.
Emilys Grad documentary film won the Student BAFTA Award for best Documentary as well as her Grad Fiction Film being shown in the student category, La Cinef, at the Cannes Film Festival earlier this year; one of only 16 films, (out of 2000 entries), to reach the festival and the only UK entry at all in this category. Since completing her studies at the NFTS, Emily secured a position as a Production Coordinator at Blast Films, a company she had previously gained work experience with. Emily's role involves overseeing the development slate from a productions point of view as well as working full time on a three-part historical documentary series for SKY.
For more information on the Production Management for Film and Television Diploma course, visit the NFTS website.