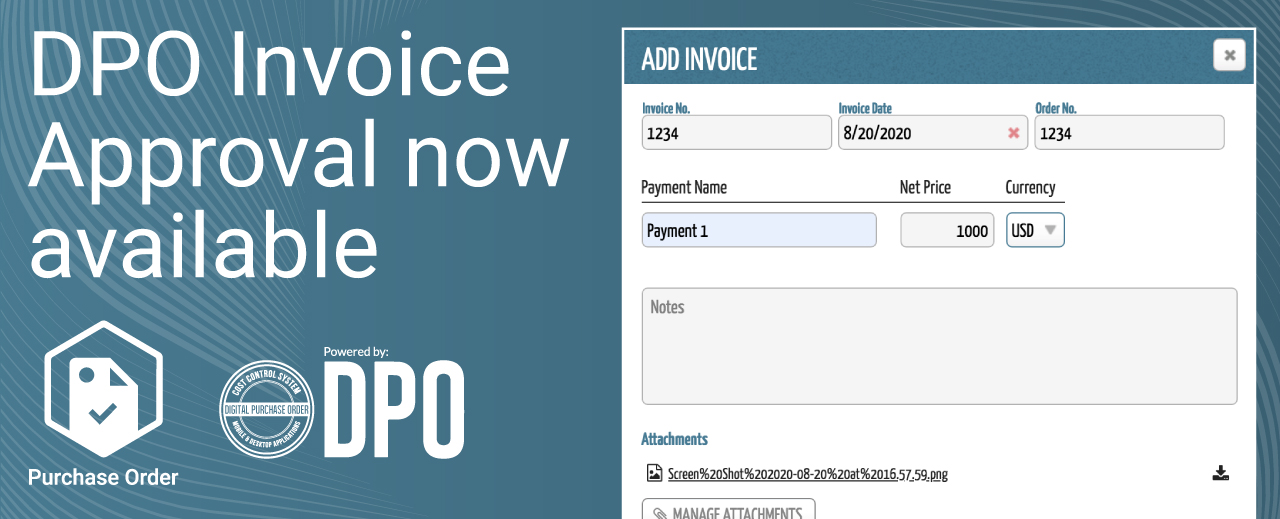 Developed in response to COVID-19 limiting the ability to distribute physical documentation, we're delighted to launch the new Invoice Approval feature for Sargent-Disc's Digital Purchase Order (DPO) web application.
The feature helps streamline the expenses approval process safely and securely whilst working remotely, on set or in the office. DPO helps productions work safely under Covid-19 protocols which encourage paperless workflows and the digital approval of POs.
How it works
DPO users can currently track deliveries and log invoices against purchase orders, whether full or partial. When logging an invoice within DPO, the user can match it against specific deliveries, allowing end-to-end tracking of the purchasing process – from PO to delivery to invoice.
Our new Invoice Approval feature enables users to upload PDFs of invoices and send for authorisation digitally . Invoices can be approved independently of the PO, but by default the system uses the same approval chain as the PO. The new Invoice Approvals tab displays outstanding invoices awaiting approval.
Admins are now able to configure separate approval chains for invoices that are different from the parent PO.
The following new admin authorisations are also available under Invoice Settings:* Invoice Settings – manages admin access to invoicing mode, enable and require attachments
* Invoice Approval – manages admin access to invoice approval settings
* Approval Levels – manages admin access to the approval level definition used for invoices, including the 'Use PO Approval Chain' checkbox
* Approval Levels: Manage Approvers – allows a user without the 'Manage Users' permission to assign or remove approvers using the approval level editor in the Invoices tab
Future phases of development will add further functionality, including the ability to export invoices, receive email notifications and search for invoices.
Contact us for a demo of Digital Purchase Order by emailing sales@sargent-disc.com.
Haven't used DPO yet?
DPO is part of Sargent-Disc's Digital Production Office® suite of applications and widely accepted to be the industry-standard for online Purchase Ordering on film and TV productions. Digital Production Office® software applications are designed to increase efficiency and save time whilst reducing costs and the carbon footprint of production. Learn how to get your production and accounts teams working remotely and safely with Digital Production Office® here.